Tunas
on
August 14, 2010
at
12:00 am
Disclaimer: The Tuna Lady does exist and I have no beef with her at all. I also don't really have a strong opinion on tunas: I don't really hate them, but I could live without them.
Lots of things have kept me away, like some really heavy freelancing translation work, a trip, getting into the habit of reading again, and the daily grind of an office job that's slowly sapping the joy of life out of me.
On the positive side, I've finally been able to afford a scanner and lots of fancy pens to dabble on traditional media. I really suck right now, smearing ink everywhere and experiencing very shoddy linework, but I'm excited and try to practice often. I tried to post a new comic made with brush pens, but I just wasn't getting it right, which just added to the ugly downtime.
Dinotales
Recently I posted to Reddit a drawing, inspired by a neat thread about Dinosaurs fighting unicorns.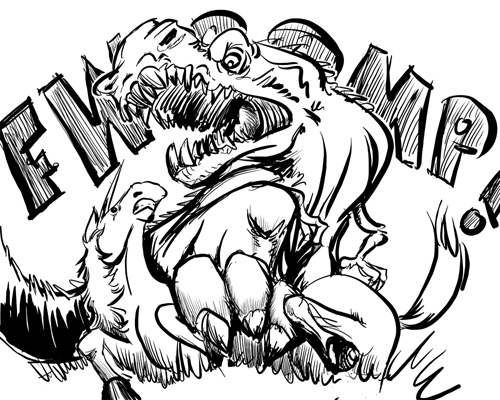 A fellow redditor saw it and proposed we entered a contest to design a shirt, he being the one eligible to enter the contest and the one providing the design and concept, and me drawing it. I can always use the practice and the guy seemed legit, so I began to work on his idea: a dinosaur morphing into a DNA strand. My first proposal: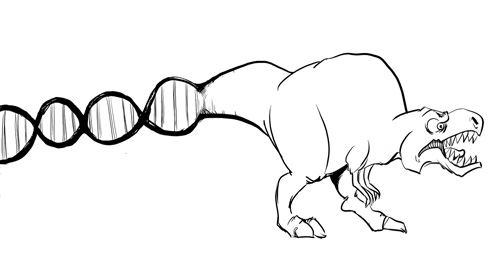 He gave me useful feedback on how to tweak it. This was the final drawing we entered, sans slogan: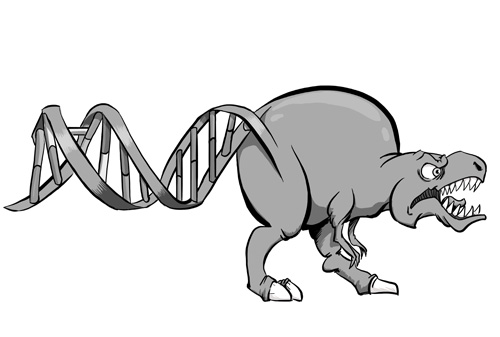 Sadly, we didn't win (so says he, and I believe him). It was fun anyway, and I guess I can share it here since it wasn't used anyways. Midway through cleaning it up I came up with an alternate design, but I was pressed for time and I couldn't develop it further.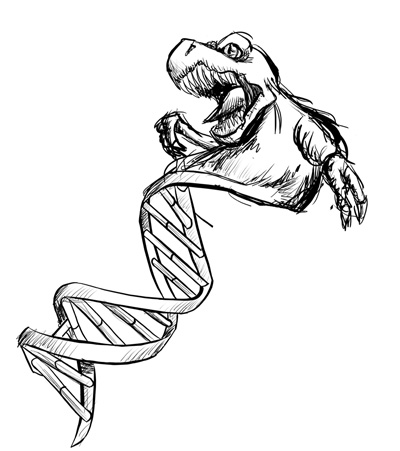 There are times I really don't have any good ideas of my own, so it was fun to just realise the vision of someone else. Only this first one was free, though.
Have a nice week!
–Pedro Arizpe